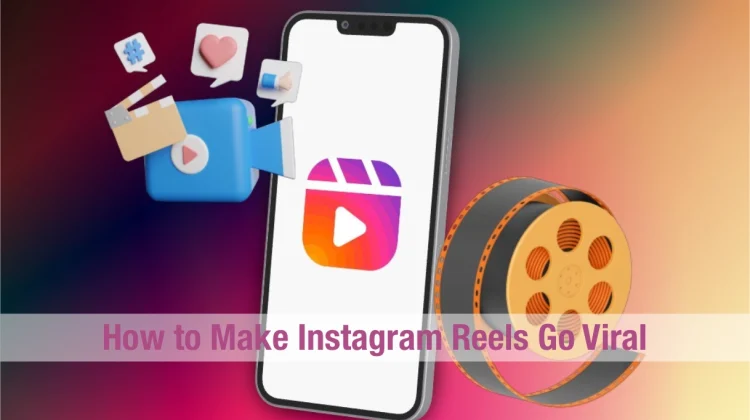 How to Make Instagram Reels Go Viral
How to Make Instagram Reels Go Viral on Instagram?
Videos are currently one of the most popular forms of online content for millions of consumers worldwide. If you own a business or are a content creator, you cannot exclude videos, including Instagram Reels, from your marketing strategy. With over 140 billion daily views of Instagram and Facebook Reels, you need a guide on how to create Instagram Reels that actually work and set you apart from the competition!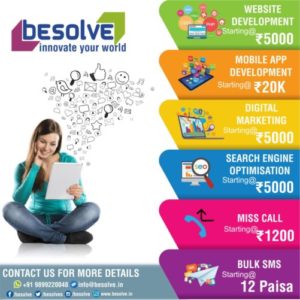 This cheat sheet will guide you through the fundamentals and best practices of creating Instagram Reels, including effective techniques to make your Reels go viral, regardless of whether you're a one-person team or a seasoned marketing expert. So let's crank up the volume about How to Make Instagram Reels Go Viral!
What Exactly are Instagram Reels?
Instagram Reels are a form of video content that is entertaining and brief. They are ideal for expanding your reach and boosting your followers, engagement rate, and brand recognition.
Instagram Reels are single or multi-clip videos up to 90 seconds long that are displayed in a full-screen, vertical format. You can alter the speed and add texts, stickers, music, transitions, and effects to create a shareable and engaging video.
This Instagram feature first appeared in August 2020, when Instagram Reels were introduced following TikTok's massive success. Since then, Reels have dominated our feeds because they have become a popular form of content.
As of July 2022, every video was transformed into a Reel. This implies that every video uploaded is now a Reel!
Here are a few technical considerations to remember:
9:16 aspect ratio
The ideal dimensions and resolution are 1080 x 1920 pixels.
Approximately 90 seconds
Minimum resolution: 740px
Cover picture size: 420 x 654 px.
Creating Instagram Reels
Before diving into the process of creating Instagram Reels, it's a good idea to familiarise yourself with the platform's tools and resources, as well as your own camera, and to investigate the Reels section. So let's commence!
Instagram Reels Tools
Our initial destination is the Reels editor. On the left side of your screen are several white icons that will assist you in improving the Reels creation process. Let's quickly examine them!
🔊Audio
Want additional information about Instagram Reels music? This section is what you were searching for! Start by conducting a search for your favorite songs using "Search music."
If you have no idea what song would work best with your video, Instagram will suggest what is currently popular. Swipe to the right to find the "Featured" compositions, and then click on each to hear the music. There, you can play the song and select the blue "Use Audio" button, and Instagram will automatically insert the most popular portion of the song into your video. Another interesting feature is that Instagram offers complete songs, allowing you to select precisely which portion of the song you want to serve as the theme for your video.
Not feeling like making a Reel right now? No worries, simply select the "Save" icon in the upper right corner, and you're done! You can locate it afterward in the audio section beneath "Search for music."
Looking for alternative ways to use and save an audio file on Instagram? Start viewing videos by navigating to the Reels section on your phone. Once you discover an audio you like, you can either save it or use it immediately by tapping the song's name or the circle at the bottom of the screen. When you're ready to create a Reel using this audio, touch the camera icon and then tap the musical note.
Need comparable music?
To learn more about this musical style, click the musical note indicator next to the blue button.
Add Yours
This section contains preset sticker cards ideal for photographically interacting with your community.
📐 Length
You can determine the length of your Instagram Reel here. Choose between 15, 30, 60, and 90 seconds.
⚡ Speed
The average pace for Instagram Reels videos is 1x, which is the default setting. Depending on what you're demonstrating or explaining in your video, you can adjust the pace to 0.3x, 0.5x, 2x, and 3x—from slower to faster.
🟪 Layout
This Instagram feature automatically divides your screen in half vertically. When you click the circle in the center, you will begin recording the first segment, followed by the second. Consequently, it is equivalent to having two videos in one. However, by selecting the layout icon a second time, you can access two additional layout options: your screen is divided into two horizontal columns and three vertical columns.
⌛ Timer
If you are working alone or need to halt your video at a specific time, a timer will be your ally. With this function, you can initiate a 3- to 10-second countdown to begin recording. Depending on the settings you select, Instagram will automatically start and cease recording your video.
Must Read: How to increase website traffic in a fast way?
Prior to Recording a Reel
1. Establish a Video Objective.
To flourish on Instagram, it is crucial to define a clear purpose and content type. Clarity is essential whether your goal is to impart knowledge, promote your latest product, or share a good time.
2. Define the Type of Content You Will Create
Once you have determined your objective, you can brainstorm and record your ideas for attaining the desired aesthetic, while keeping the preferences and interests of your audience in mind at all times. Remember that the algorithm prioritises videos with the highest likelihood of audience engagement.
Tip: Keep a watch on popular music, trends, effects, and styles for inspiration. You can always incorporate a popular sound or video into your brand.
3. Have a plan for the structure of your videos.
This implies that all of your Instagram Reel videos must have a beginning, middle, and conclusion in order to tell a story. Include a distinct call to action that encourages your audience to perform a specific action in the conclusion.
4. Prepare the Necessary Equipment and Arrange a Suitable Setting for Filming Your Reels
To make your content stand out, ensure you have adequate illumination, preferably natural light, and a clean background. Remember to have all the necessary equipment for the filming procedure, including clothing, brand products, and instruments.
Prepare to discover how to create Instagram Reels on your mobile device.
How to Make Instagram Reels Go Viral on Instagram?
How to Create Instagram Reels Utilising the App
Great, we've grasped the fundamentals so far! The recording, editing, and sharing processes are the next step. Here is the detailed procedure: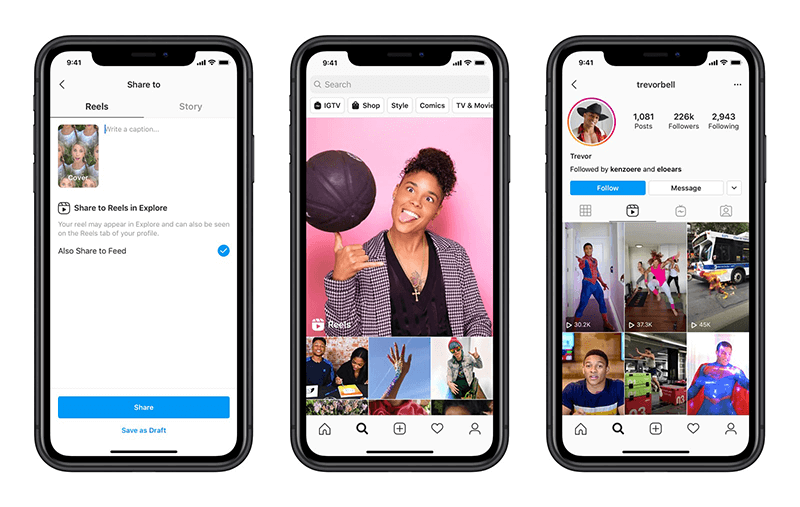 1. Launch the Instagram application
There are four ways to gain access to the Reels section.
Select the "+" icon and swipe right to access "Reels" as soon as the app is launched.
In the upper right corner of your profile, select the "+" icon for "Create" and tap "Reel."
Or, on your home (feed), select the blue "+" icon just below the Instagram logo. You'll observe that Instagram places you on "Story" by default. Swipe right and tap "Reels" to begin recording or creating a reel.
Lastly, while viewing Reels, touch the camera icon. This will take you to the Reels editor, where you can begin constructing one.
2. Create or post a Video
You are already acquainted with the instruments, so it is time to put them to good use. Whether you want to record a video from scratch (directly from the app) or upload a previously recorded video (created with Instagram Reels or by using other video editing software). Follow these steps if you want to spice up your video and modify it in either scenario:
3. Rearrange Your Instagram Reels
Interested in editing Instagram Reels? Here are the steps:
Once you've recorded or uploaded a video, you'll notice a blue button labeled "Next"; clicking this button will transport you to the Make a Cover and Share section. But before you can proceed to that section, you must alter your video.
Simply touch the black "Edit video" button. Here, you can incorporate additional clips, either recorded directly from your camera or uploaded from your gallery, and then rearrange their order. In addition, add text, stickers, and other elements to your video, and if you neglected, audio as well.
Tips: To trim a video recording in the editor, select it, and a yellow outline will appear. Then, drag it to the right (beginning of the video) or left (end), depending on which portion of the video you wish to trim. You can modify the portion of the song you want to hear on your Reel by dragging to the right or left, and you can even change the theme.
After making all the necessary adjustments to your video, click "Next" to create a cover image and publish it.
4. Create a Cover Image
Using an image from the video you've just produced, you can create a cover photo for Instagram Reels. To achieve a stunning and professional result, we recommend devoting a few minutes to designing an image that will attract a large number of viewers and is consistent with the manner of your feed. In this circumstance, you can utilise our services for creating Instagram Reels &  stories.
5. Publicise and Spread!
Click "Edit Cover" to choose a frame from your video or "Add from your device" and then click "Done" to complete the process.
After that, you can add a caption to your Reel and optimise your video for search by including effective keywords and hashtags. The key to achieving success on Instagram is to include three to five pertinent hashtags that help your target audience discover your content.
Then, ensure that the blue icon to share your feed is enabled. Herein lies the importance of establishing a cover photo for your video. This will allow you to exhibit your Reel consistently across all your feeds without sacrificing style.
You can also tag individuals and add a message button, such as "Send message." Be sure to include up to three topics to match your Reel to the appropriate audience. Choose from the categories of fashion and beauty, animals, transportation, cuisine and drink, visual arts, travel, sports, science and technology, relationships, performing arts, games, television and movies, home and garden, and business and education.
Additionally, it is possible to include location and reminders. A reminder is fantastic when you have an impending event; this Instagram feature allows you to name an event and set a start time so that people are aware of it and receive notifications before it begins.
Recommend on Facebook. If you want your Instagram Reel to appear on Facebook, make sure the icon is activated. Keep in mind that your Instagram username will be displayed on Facebook. Also, a Facebook account is not required to share on Facebook. Consider that anyone on these two platforms can create Reels and alter your original audio.
Advance parameters. This section enables you to allow others to use your Reel as a template, conceal your Reel's like count, display automatically generated captions, and upload at the highest quality.
How to Create Instagram Videos Using Templates
Excellent news for creators and corporate accounts! Instagram has introduced a section for Reels templates that will save you a great deal of time and effort by removing the need to modify videos. Therefore, you will not need to learn how to use complicated or laborious online editors.
Then, where can one locate Instagram Reel Templates?
Open the Reels section directly from your profile, then click the "+" icon and choose "Reel". Once it's open, you'll see "Reel" and "Templates" on the right.
To view all available templates, swipe right. The majority include a variety of common effects and transitions.
As you hover over each template, the Instagram Reel template will play automatically so you can observe it. Observe the available templates and then select your favourite.
When you choose a template, you only need to insert your media into the predetermined clips and customise them to your preference. Once you're satisfied with the outcome, you can edit the video to include any texts, stickers, or other elements that you neglected, and then proceed to the publishing phase.
Instagram Reels Ideas
We already know how to create Instagram Reels in a step-by-step manner, but you may need a lot of ideas for your next video. Here are some thoughts!
Do-it-yourself videos
Behind the scenes
A funny moments
Tell a story
This or that
Audience POV
Before and After
Tips and Tricks
How to do videos
Questions & Answer
Remix (Duo)
A new feature or Product
A compilation
About your best sellers
A guided tour
Instagram's Most Effective Methods
There are several considerations to bear in mind if you wish to beat the Instagram Reels algorithm. Although some of the following points may appear evident, it is important not to overlook them. We guarantee that if you follow all of these hacks and guidelines, you'll have everything you need to make Instagram happy and your Instagram Reels go viral. So let's take a peek!
1. Leave Safe Zones
When designing, it is sometimes common to encompass the entire screen/layout without leaving room for the user's account, name, and description of your Reel. Ensure that your video elements and the video itself have breathing room and are tidy.
2. Make It Vibrant
The Instagram algorithm enjoys variety, just as we humans do, as we are always seeking something fresh and thrilling. The same holds true for your videos! You can modify them by altering their angles, incorporating transitions, incorporating Instagram's creative tools (texts, stickers, audio), sharing compelling stories, participating in amusing trends, and generating diverse content.
3. Shorter Videos Work Best
A study revealed that brands and enterprises only have eight seconds to capture the attention of viewers. This means that the first few seconds are crucial! Consumers will determine whether your content is worth viewing in a fast-paced environment. Therefore, if you don't want them to scroll down, you should begin with an engaging visual or text that focuses on providing a solution or discussing a topic that is pertinent to your target audience. Lastly, if you need to develop a longer message, choose alternative valuable resources such as YouTube videos in their entirety or a blog.
4. Don't oversaturate.
While Instagram encourages the use of its resources to enhance your Reels, please avoid oversaturation, particularly with text. Instagram users value aesthetics over saturation, so only include text when necessary. If additional information or actions are necessary, use the description or provide an external link.
5. Consider Your Community
When creating Reels, your community is the greatest resource for determining what you're doing well and what needs improvement. For better and more thorough comprehension, you should ask them what they want to see and use tools such as polls, quizzes, and reaction bars.
6. Have a Solid Plan and Vision
To be successful with Instagram Reels, you must have a distinct vision and strategy. Remember that every video you create should ultimately serve a purpose that contributes to the development of your brand, even if it is exciting and fun to follow the latest trends. Consequently, you should consider your brand seriously and align your sales and marketing efforts with your primary business objective. By doing so, you can facilitate a cohesive and efficient content creation process.
7. Add Explicit Calls to Action
Always include a call to action at the conclusion of your Reel; doing so will have a significant impact on your numbers and interactions. You only need to tell your audience what you want them to do. Examples include "Like this post," "Save it for later," "Share it with a friend," "Follow for more content," and "Link in my bio." This final statement is effective for driving traffic to your profile and website.
8. Distribute Video Content
After posting a Reel, you can continue to share it on your feed and stories. This action will ensure that your community is aware of your new content. In addition, sharing your Reel on your Instagram Stories is an ideal method to expand your audience and boost engagement.
9. Little actions matter greatly.
Add captions to make your video content accessible to all viewers; this ensures that even if the sound is off, anyone can still appreciate the video. In addition, ensure you meet the technical requirements, such as using only high-resolution vertical videos and platform-exclusive music -or creating your own audio. Finally, please avoid watermarks from other competitors, such as TikTok, at all costs.
That's all folks! If you enjoyed this post, share it with your friends and comment if you have any suggestions.