BESOLVE
Smart
Hospital Management
System
Our Hospital information system software is a customisable, comprehensive, and integrated Hospital Management Software designed to manage all hospital operations online.
The Medical Sector is the most important sector in a community and therefore, the development of this sector is very important. So to enable operational efficiency across the hospital/clinic, Smart Hospital information system software is required.
Smart Hospital Management System Software's brief description
With the right implementation of the Smart Hospital Management System, you can benefit in many ways and also it makes the management very easy. The software helps in addressing the Shortages, Streamlining the work, Smooth running of the hospital, getting Prompt and Correct Reports as and when required, and Centralized data storage with security. And last but not the least; the software will help in Customer Satisfaction.
Our Software brings speed and reliability to your hospital and with the advanced technology used in our software you can manage your hospital in a much better way and also have full control over it. Starting from New Medicine Purchase to Customer Billing and Reordering New medicine with the help of Minimum Stock Report and Expiry Alerts all can be done and managed by this software, as this is not just pharmacy management but a complete Supply Chain Management.
Thus is eases your work and maintains a proper and centralized records. The software is secure and reliable. The most important thing about the software is that it is very user friendly and no professional skills or knowledge is required so anyone and everyone can use it. And last but not the least; our software has many modules which are designed keeping in mind the various aspects which makes the software complete and self-sufficient and that is why it helps in the properly management of the pharmacy.
Complete Hospital Management with the help of Maximum Modules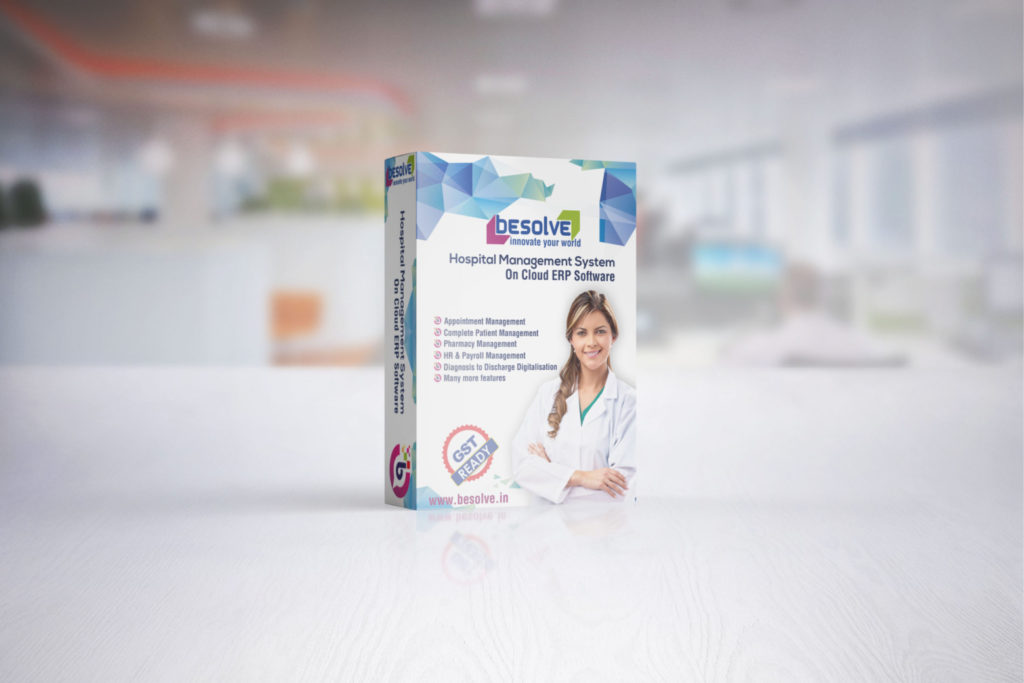 RECEPTION
Appointment Scheduler
Patient Registration
Referral Management
Consent Forms
Insurance Management
IN PATIENT MANAGEMENT
Admission Details
Bed Management
OT Booking & Reporting
Discharge Summary
OUT PATIENT MANAGEMENT
OPD Visit Details
Prescription Writer
Test and Investigation Reporting
Vaccine Charts
PAYROLL & STAFF MANAGEMENT
HR Management with PF management
Payroll Management
Attendance Monitoring System
Leave & Holiday Management
Maintain Records of Staff
MIS REPORTS
Certificates and Letters
Service wise Patient details
Clinical Reports & Analysis
Expenditure & Profit Reports etc.
ASSET MANAGEMENT
Maintain record of all Manufactures and Suppliers
Record of all Departmental Issues
Track of Re Order level
AND MANY MORE REPORTS AS PER YOUR REQUIREMENTS…
PHARMACY MANAGEMENT
Along with
SUPPLY CHAIN MANAGEMENT
ADMINISTRATION
User Management
Roles & Permission Management
OPERATION THEATER MANAGEMENT
Book Operation Theater in advance
Pre & Post Operational details of patients can be maintained
BLOOD BANK MANAGEMENT
Maintain Records of all the donors
Maintain the available bloods
Issue of blood
LABORATORY MANAGEMENT
Instant Test Allocation
Easy Creation of Lab Reports
INSURANCE MANAGEMENT
Maintain complete insurance details of the patient
Insurance Claim & Settlement
INTERNAL MESSAGE & DOCUMENT SHARING SYSTEM
Internal Messaging System for the sharing messages internally
Document Sharing System wherein departments can share important files or even patient related documents without actual physical transfer.
Top of that we are providing complete customised solution as per your requirement.  Feel free to ask. We will deliver the software according to your requirement.
Get in Touch
Request a Demo
Get in Touch
Interested in our Hospital Management Software or need any advice? Then please get in touch and we'll be glad to help and solve your business challenges anytime, anywhere.